Return to Previous Page
PhotoBlocks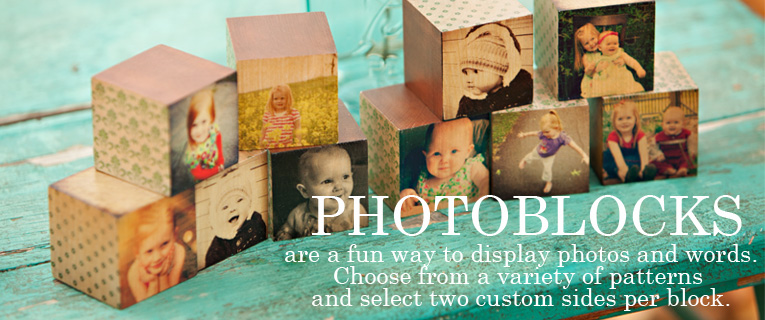 Sale

Regular Price: $8.00

Pro Price: $6.00

Sale

Regular Price: $8.00

Pro Price: $6.00
Our PhotoBlocks are one of our most unique and multidimensional products. They allow you to display your photos along with your choice of one of our pattern options on a set of either 5 or 10 2x2 wood blocks. You can also choose to use letters to spell words that are up to 5 or 10 letters long, depending on the PhotoBlock set you purchase. Each wood block has two customizable sides that may either have a photo on each, or a photo on one and a letter on the other.
These two customized sides are printed on opposite sides of the PhotoBlock, and the pattern you select is printed on the four remaining sides. The photos, letters, and patterns you choose are all printed directly onto our solid wood PhotoBlocks, giving this collection of personalized décor not only a unique shape on which to be displayed, but a unique texture and material as well.

Our website allows you to fully design and customize your PhotoBlocks before ordering. Upload your images, and then select the letters, tones, and patterns to go with them. You specify how you want your PhotoBlocks to look, and then we use our expertise and professional equipment to turn your vision into a polished, finished product. Our current pattern sets include: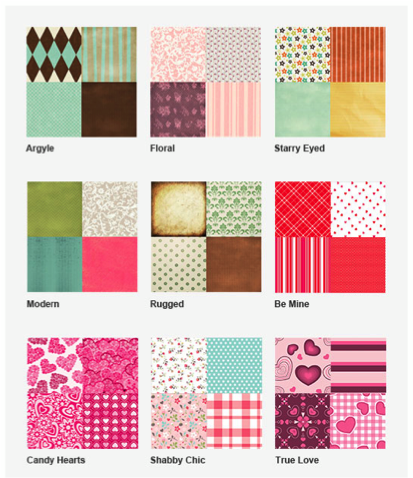 -Argyle
-Floral
-Modern
-Rugged
-Starry Eyed
-Shabby Chic
-True Love
-Candy Hearts
-Be Mine

PhotoBlocks are an ideal gift idea or a creative way to display your own personal memories in your home or office. Theme your PhotoBlocks by occasion, celebrate a child, represent your family, or creative a unique display of your favorite photos. These make a unique and creative keepsake. Give PhotoBlocks to parents, grandparents, significant others, children, or friends. With the ability to personally design your blocks, you can make these perfect for anyone and anywhere.

Christmas Ornaments

A popular holiday photo gift at PhotoBarn is our Christmas Ornaments. Design 5 of our 2x2 blocks with your photos, one of our holiday pattern sets, and a holiday greeting. Our Christmas Ornaments are created in the same manner as our PhotoBlocks, but we add a sheer red, green, or silver ribbon from which to hang the blocks on your Christmas tree. Unlike traditional Christmas ornaments, PhotoBarn's are durable at the same time they are festive and personalized. These make the perfect, sentimental gift for your loved ones during the holidays. Below are the available patterns sets and their corresponding ribbon colors:

-Blue Snowflakes with Silver Sheer Ribbon
-Lime Rickey with Red Sheer Ribbon
-Pretty in Pink with Green Sheer Ribbon
-Wrapping Paper with Red Sheer Ribbon

PhotoBlocks and Christmas Ornaments are some of PhotoBarn's most popular products. Let us help you create a customized centerpiece for your home or a personalized gift for someone else. When you combine your photos and design input with our professional craftsmanship, these solid wood 2x2 blocks become a unique end enduring way to display some of your most memorable moments. Order your PhotoBlocks today.


Read more »